Situs jurnal Universitas Brawijaya ini memuat jurnal-jurnal edisi lama yang diterbitkan institusi dan lembaga di lingkungan Universitas Brawijaya. Koleksi digital ini merupakan versi hasil alih media dari berbagai jurnal yang telah terbit dalam versi cetak dan memuat berbagai artikel-artikel penelitian dan kajian-kajian ilmiah yang meliputi berbagai bidang keilmuan diantaranya teknik, ekonomi, kedokteran, gizi, pertanian, peternakan, ilmu administrasi, hukum, sosial politik dan berbagai bidang lainnya.
Klik pada judul jurnal berikut untuk mengakses berbagai jurnal online edisi terbaru :
FAKULTAS HUKUM :
FAKULTAS EKONOMI DAN BISNIS :
FAKULTAS ILMU ADMINISTRASI :
FAKULTAS PERTANIAN :
FAKULTAS PETERNAKAN :
FAKULTAS TEKNIK :
FAKULTAS KEDOKTERAN :
FAKULTAS PERIKANAN DAN ILMU KELAUTAN :
FAKULTAS MIPA :
FAKULTAS TEKNOLOGI PERTANIAN :
FAKULTAS ILMU SOSIAL DAN ILMU POLITIK :
FAKULTAS ILMU BUDAYA :
PROGRAM TEKNIK INFORMATIKA DAN ILMU KOMPUTER :
PROGRAM PENDIDIKAN VOKASI :
PROGRAM PASCA SARJANA :
LP3 :
LPPM :
LSIH :
Laboratorium Biosains :
PSLD :
NON FAKULTAS/LEMBAGA :
DAFTAR JURNAL :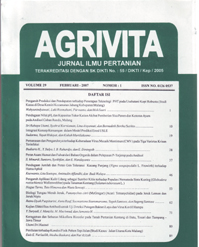 AGRIVITA, Journal of Agricultural Science
AGRIVITA, Journal of Agricultural Science (AJAS), is published by the Faculty of Agriculture, Universitas Brawijaya, Indonesia, which is a dissemination medium for research result from researchers and lecturers. Today, Agrivita is one of the best accredited scientific journals in Indonesia. The accreditation issued by The Ministry of National Education, Directorate General of Higher Education with decree number 65a/DIKTI/Kep./2008 that granted Agrivita with accredited B. In 2009, Agrivita is appointed as a supervisor in agriculture and plant science journals.

View Journal | Current Issue | Register
JURNAL ILMU-ILMU PETERNAKAN
Jurnal Ilmu-ilmu Peternakan, Fakultas Peternakan Universitas Brawijaya. Jurnal ini mengakomodir artikel/karya ilmiah yang belum pernah dipublikasikan yang meliputi aspek Nutrisi dan Makanan Ternak, Produksi Ternak, Reproduksi dan Pemuliaan Ternak, Teknologi Hasil ternak, dan Sosial Ekonomi Peternakan serta aspek Kesehatan Ternak. Naskah yang dimuat dapat berupa hasil penelitian, telaah/tinjauan literatur, penelitian singkat (short communication) dan gagasan penting dalam bidang peternakan.
View Journal | Current Issue | Register
Journal of Tropical Animal Production
Ternak Tropika diterbitkan oleh Jurusan Produksi Ternak Fakultas Peternakan Universitas Brawijaya bekerja sama dengan Ikatan Sarjana Peternakan Indonesia (ISPI) Cabang Jatim II